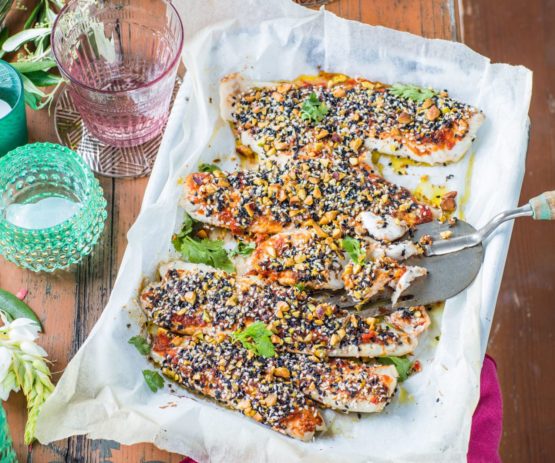 This Middle Eastern inspired baked fish with a sesame, pistachio & harissa crust would be a simple dish to enjoy this summer. Nadia Lim pairs this fish up with her tasty eggplant, pomegranate, feta & mint Israeli couscous. Check out the original post here.
INGREDIENTS:
sesame seeds (black, white or mixture) 1-2 tablespoons
ground sumac 1 tablespoon
pistachios ⅓ cup, finely chopped
salt 1 teaspoon
fresh white fish or salmon 4-6 fillets, skin off
harissa 4-6 teaspoons (I use Culley's or Julie Le Clerc's brand, check label if eating gluten free)
liquid honey 1 teaspoon
extra virgin olive oil for drizzling
coriander leaves to garnish
Eggplant, pomegranate, feta and mint Israeli couscous
eggplant 1 large or 2 small, cut into 2-3cm cubes
olive oil 3 tablespoons
ground cumin ½ teaspoon
ground coriander 1 teaspoon
Israeli couscous (also called pearl couscous) 1 cup
pomegranate 1/2, seeds
feta 100g, crumbled
mint leaves 1 cup, chopped
flat-leaf parsley 1 cup, chopped
lemon 1, finely grated zest and juice
extra virgin olive oil for drizzling
Preheat oven to 220°C. Line an oven tray with baking paper
Mix sesame seeds, sumac, pistachios and salt together.
Lay fish fillets on prepared tray. Spread with harissa paste and drizzle with a little honey. Sprinkle over pistachio mix.
Drizzle with extra virgin olive oil and bake for about 8 minutes until fish is just cooked through.
Serve hot from the oven, garnished with coriander.
Israeli Couscous:
Preheat oven to 200°C. Line an oven tray with baking paper.
On lined tray, toss eggplant with oil and spices. Season with salt and pepper. Roast for 25-35 minutes until soft and golden.
Meanwhile, bring a pot of salted water to the boil. Cook couscous until tender (about 8 minutes). Drain and briefly run under cold water – this will help stop the couscous from sticking together.
To serve, toss couscous with eggplant, pomegranate seeds, feta, mint, parsley, lemon zest and juice, and a good drizzle of extra virgin olive oil. Season to taste with salt and pepper.