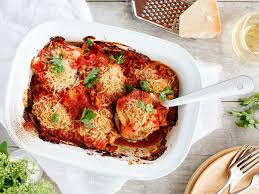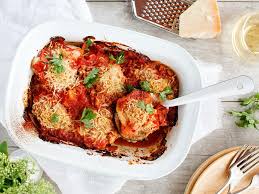 Try Angela Casley's fish parmigiana, a unique but delicious take on a classic Italian dish. Check out the original post here.
One of the most traditional and popular uses for aubergine is parmigiana. Pieces are crumbed with parmesan, fried until crisp and browned on top. Here, we've added fresh fish to the traditional tomato and cheese sauce, and made plenty so it makes a substantial meal that only requires a side salad. This is one of those great dishes that can be prepared ahead of time and then popped in the oven 30 minutes before serving.
FISH PARMIGIANA RECIPE
Serves 4
1 aubergine, sliced in 1cm rounds
1 egg, whisked with a little salt and pepper
1 cup breadcrumbs
Oil to fry
500g white fish fillets, cut into pieces
1 cup tomato pasta sauce
¼ cup breadcrumbs mixed with ½ cup parmesan and ½ cup chopped parsley
1. Preheat an oven to 180C.
2. Dip the aubergine rounds in egg and
then breadcrumbs, covering them completely. Heat ¼ cm oil in a frying pan and cook the aubergine in batches for 3 or 4 minutes each side until cooked through and lightly browned.
3. Lie the aubergine on the base of a baking dish. Place the pieces of fish on top of the aubergine rounds. Pour over the pasta sauce and sprinkle with the crumb mixture.
4. Bake in the oven for 30 minutes until golden and the fish is cooked through.
5. Serve with a side salad.