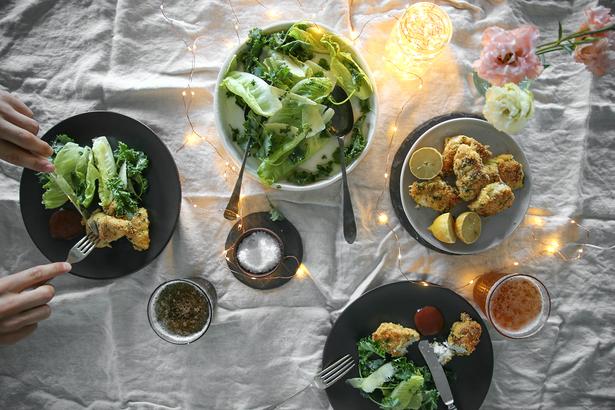 If you are looking for some inspiration for your next date night have a look at this Almond Meal & Polenta fish recipe by Eleanor Ozich. Check out the original post here.
With small children it can be hard to create romance with your significant other. My husband and I often create a special date night, within the walls of our little home. I love the idea of creating a simple, yet delicious meal, something a little fancy to enjoy together.
Imagine a dinner of fish, crisp and lemony on the outside and succulent through the middle, served alongside a salad of lettuce and herbs, picked straight from the garden and tossed gently with the juice of a lemon, and a heavy drizzle of buttery olive oil. It would be the perfect evening, really, and all because we made it so.
Here's a simple recipe that's easy to throw together, but feels a little fancy, too.
DATE NIGHT ALMOND MEAL AND POLENTA FISH RECIPE
Serves 2
INGREDIENTS
500g white fish fillets, sliced into smaller pieces
1 cup natural yoghurt
A handful of parsley, finely chopped
3/4 cup almond meal
½ cup polenta
1 tsp sea salt
METHOD
1. Combine the fish and natural yoghurt in a bowl. Toss until coated, cover, and place in the fridge for at least two hours.
2. In a large, shallow bowl, combine the parsley, almond meal, polenta and sea salt.
3. Dip each piece of fish into the almond meal mixture, and coat on each side.
4. Heat a pan, and add a tablespoon or two of butter. Grill the fish for 2-3 minutes on each side, or until lovely and golden, and cooked through.
5. Serve with a herby green salad, some tomato relish, or perhaps a dollop of Greek yoghurt.