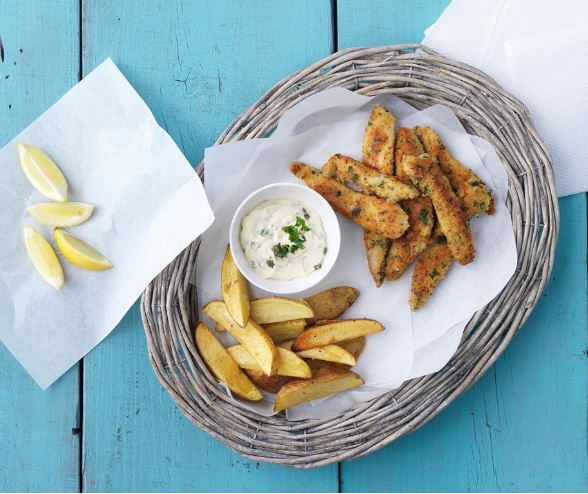 This crispy crumbed gurnard recipe is delicious served with homemade fries and caper mayo. Enjoy as a midweek family meal or try as a Friday night fish and chips alternative! Click here for the original recipe.
INGREDIENTS
4 potatoes, cleaned and cut into thick wedges
2 tablespoon olive oil
1/2 cup flour
2 eggs, lightly beaten
1 cup breadcrumbs
1/2 cup parmesan cheese, grated
2 teaspoon grated lemon zest
3 tablespoon parsley, finely chopped
3 teaspoon lemon pepper seasoning
450 gram fresh gurnard fillets
1 tablespoon olive oil, extra
2 tablespoon butter
1 lemon, cut into quarters
1/2 cup good-quality bought mayonnaise
1 tablespoon capers, drained and chopped
1 tablespoon parsley, chopped
METHOD
Preheat the oven to 200°C. Place the potatoes into a baking dish and drizzle over the oil. Bake the potatoes for 30-40 minutes, or until cooked.
Place the flour and eggs on separate plates. Place the breadcrumbs, cheese, lemon zest, parsley and seasoning on a third plate and mix together.
Dip each fillet into the flour, then the eggs, then the breadcrumbs.
Heat the oil and butter in a large frying pan on a medium heat. Add the fillets and cook for 3 minutes on each side, or until cooked. You may have to cook the fillets in batches, depending on the size of the pan. Serve with lemon wedges and caper mayonnaise.
To make the mayonnaise, place all the ingredients in a small bowl. Mix together. Set aside.