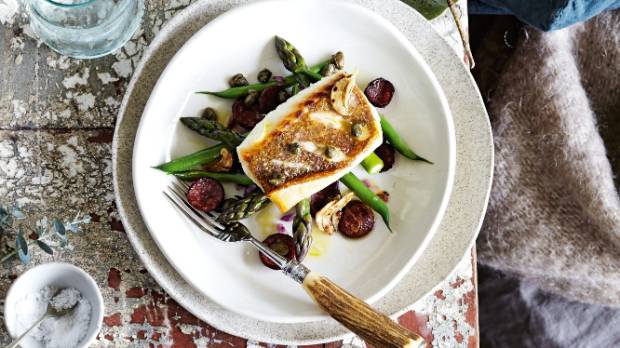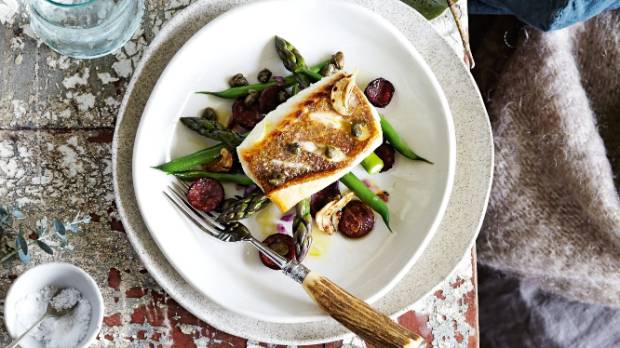 There's no better way to enjoy one of NZ's premier fish than with some crispy skin so we've decided to start selling scaled skin on boneless Snapper fillets. This recipe by Bernadette Hogg looks fantastic and is definitely one to try. Check out the original post here.
Succulent snapper teams with the punchy flavours of chorizo, capers, garlic and lemon in this attractive, tasty offering. If it's too early for asparagus in your area, simply use more beans.
INGREDIENTS:
4 portions of snapper (about 100g each), skin on, bones removed
1 teaspoon flaky sea salt
2 tablespoon olive oil, plus extra for drizzling
1 small red onion, finely chopped
100g chorizo, thinly sliced
2 tablespoons capers, drained and patted dry with paper towels
2 cloves garlic, peeled and cut into thin slices
12 green beans
8 stems asparagus
Dressing:
1 lemon, juice and finely grated zest
¼ cup olive oil
2 tablespoons rice wine vinegar
METHOD:
Combine the three dressing ingredients and set aside.
Season snapper with the salt and drizzle with a little olive oil. Heat the 2 tablespoons oil in a large frying pan over medium heat. Add fish, skin side down, and cook until golden then turn and cook for a further 1-2 minutes until flesh is opaque. Remove to a plate, cover and keep warm.
Wipe excess fat from pan and return to heat. Add chorizo and cook until starting to curl and brown.
Add shallots and capers and sauté for a minute then add garlic slices and stir until just beginning to brown.
Meanwhile, trim beans and asparagus and blanch in boiling water.
To serve, place beans and asparagus on plates, scatter with chorizo, shallots, capers and garlic slices, top with fish and drizzle with dressing. Serve immediately.
Serves 4