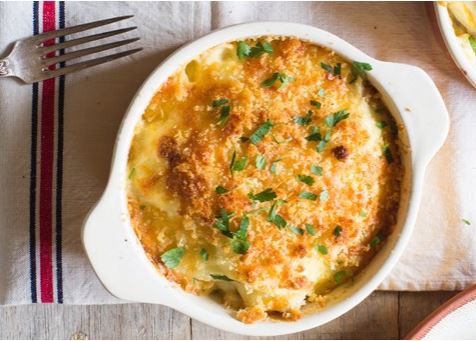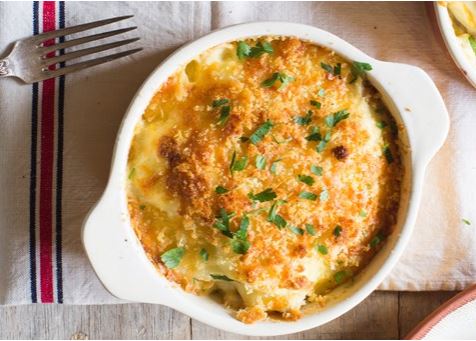 The combination of smoked and fresh fish is hard to beat in this simple fish pie. Check out the original recipe here.
Ingredients
4 Eggs
50g Butter, plus extra for buttering dish
1 small Onion, finely sliced
3 Tbsp Flour
2 cups Milk, full cream, hot
1 Tbsp Chopped parsley, optional
350g Smoked fish, flaked into good-sized pieces.
300g Fish fillets, white, cut into 2.5cm pieces
1 cup Breadcrumbs
1 cup Grated cheese, cheddar
Directions
Preheat the oven to 190C lightly butter an ovenproof baking dish.
Place eggs into a saucepan of boiling water and boil for 7 minutes (for cooked through eggs). Drain and run under cold water until cool, then peel. Set aside.
Melt the butter in a heavy-based saucepan and add the onion. Cook gently until the onion is soft, about 5 minutes. Remove from the heat, add the flour and stir well to make a roux.
Place back over a medium heat, stirring continuously until roux is lightly golden. Pour on the hot milk, stirring continuously and cook until the sauce is smooth, shiny and thick enough to coat the back of the wooden spoon. Season with salt and pepper and stir through parsley if using.
Place the fish in the baking dish. Halve or quarter eggs and place on top, then spoon over the sauce.
Mix together the breadcrumbs and cheese and sprinkle evenly over the top of the sauce. Place in the oven and cook for 20 minutes until the topping is golden and crisp and the sauce is bubbling around the edges.
Serve with a side of steamed green vegetable. Enjoy!