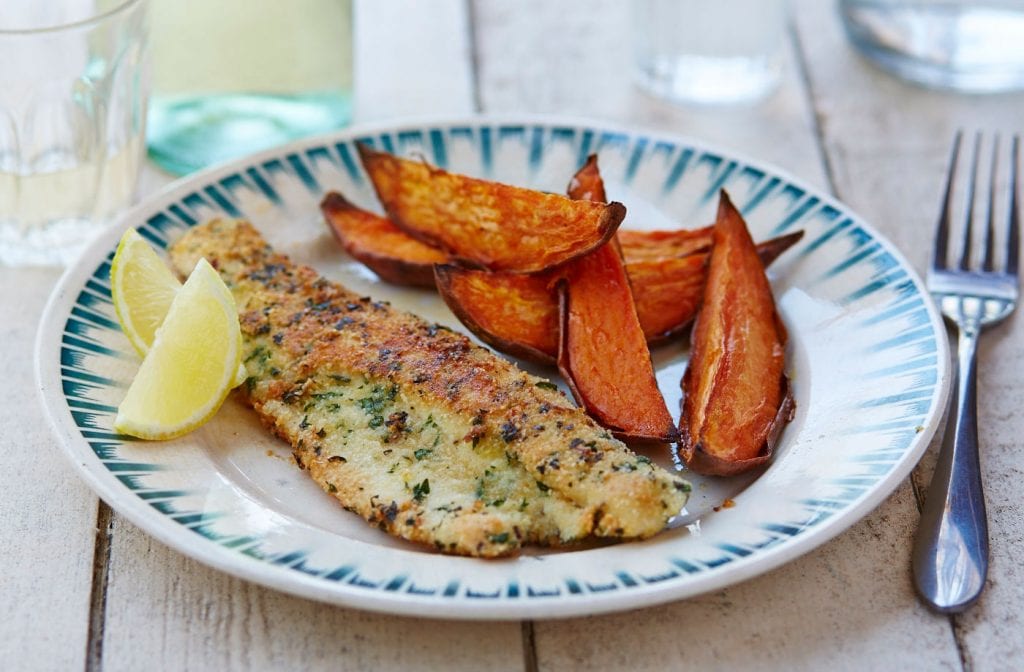 This recipe is from Tesco and you can find the recipe here.
Ingredients
2 kumara
olive oil
sea salt
50g ground almonds
1 tbsp finely chopped parsley
1/2 lemon, zested
pepper
2 x fish fillets – Gurnard, Snapper, Tarakihi etc.
1 egg, beaten
mayonnaise, to serve
Method
Preheat oven to 190°C.
Cut the kumara in half lengthways and then each half in wedges about 2.5cm (1in) wide. Drizzle over just enough olive oil to coat, then sprinkle over some sea salt. Roast in the oven for about 30–35 minutes until cooked through.
In the meantime, combine the ground almonds, paisley and lemon zest, and season with salt and pepper. Using a pastry brush, coat the fish with the beaten egg, lay in the almond mixture and coat well.
About 10 minutes before the kumara wedges are done, heat 1 tablespoon of olive oil in a large pan over a low-medium heat. Fry the fish for 3-4 minutes on each side until cooked through and golden. Don't have the heat too high or it will burn the almond crust before the fish is cooked.
Serve immediately with the kumara wedges and mayonnaise on the side.