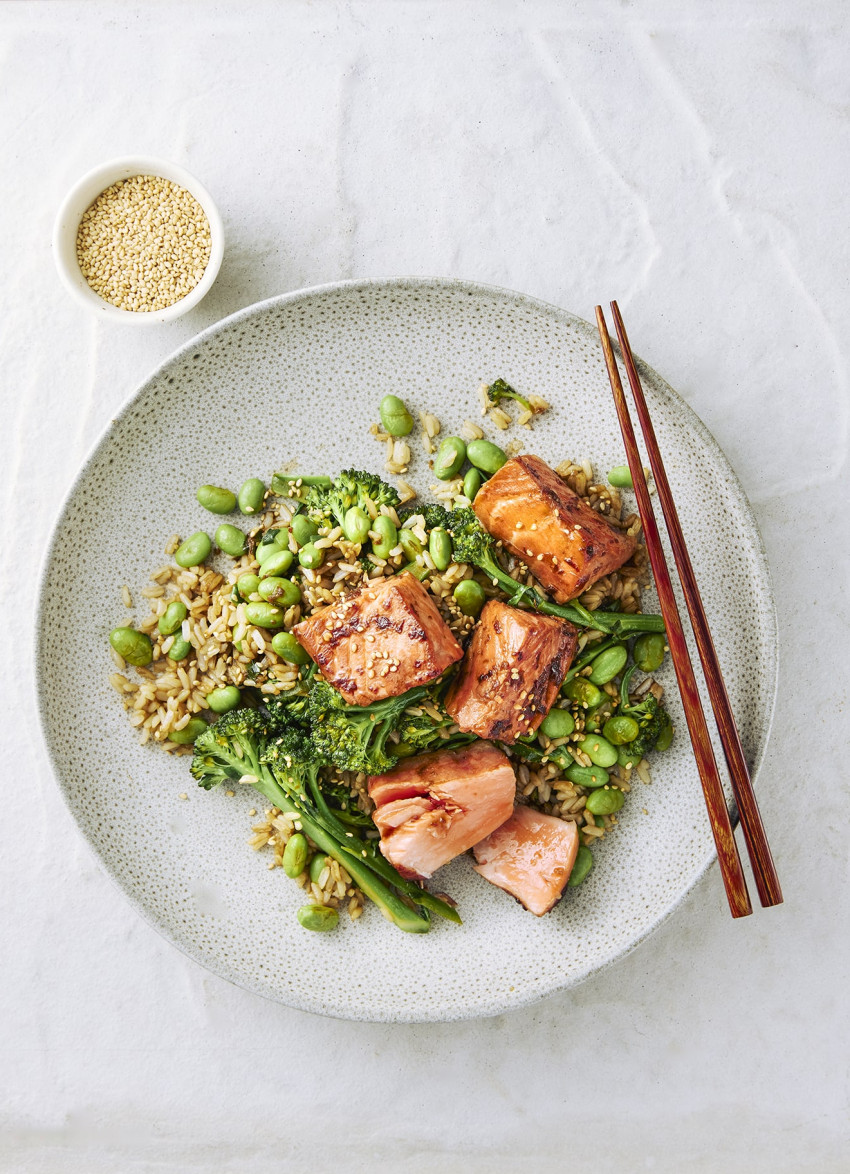 If you are a fan of brown rice here its nubbly texture is the perfect foil for the rich salmon with sesame, tamari and chilli. Check out the original recipe. Serves 4.
INGREDIENTS
1¼ cups brown rice
1 thumb ginger, grated
1 tablespoon sesame oil
¼ cup tamari
1 clove garlic, crushed
½ teaspoon chilli flakes
4 medium salmon fillets, skinned, pin-boned and cubed
3 tablespoons rice bran oil
4 spring onions, sliced
250 grams broccolini, stalks halved lengthways
¼ cup Chinese Shaoxing rice wine
1 cup frozen edamame beans
2 teaspoons chilli oil
2 teaspoons sesame seeds
METHOD
Cook the brown rice according to the packet instructions, drain well and set aside.
Combine the ginger, sesame oil, tamari, garlic and chilli in a container. Add the salmon and toss to coat. Set aside for 10 minutes to marinate.
Heat 2 tablespoons of the oil in a large frying pan over a medium-high heat. Add half the salmon and cook, turning, for 2-3 minutes, until just cooked. Remove and repeat with the remaining salmon, reserving the marinade. Set aside to rest, loosely covered with foil.
Add the remaining oil to the frying pan, then add the spring onions and broccolini and cook for 2 minutes. Add the rice wine, edamame beans, reserved marinade and cook, stirring, for 3-4 minutes, until the liquid has reduced slightly. Add the rice to the pan for 3-4 minutes, until heated through. Spoon the rice and vegetables onto 4 serving plates and top with the salmon. Top with the chilli oil and sesame seeds to serve.