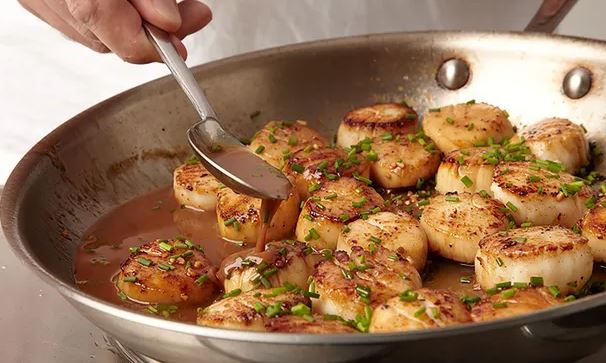 Seven ingredients and one skillet lead the way to home cooking that's as good as anything you'll eat in restaurants! Check out the original recipe here.
Ingredients:
3 tablespoons butter
1 tablespoon olive oil
Salt and freshly ground pepper
1 tablespoon minced garlic
Juice of 1 lemon
1/2 cup dry white wine or water, or more as needed
2 tablespoons chopped fresh chives
Method:
Cut 2 tablespoons of the butter into pea-sized pieces, put it on a small plate, and stick it in the freezer. Heat a large skillet over medium-heat high for 3 or 4 minutes. Add the remaining 1 tablespoon butter and the olive oil and wait for the butter to melt.
Pat the scallops dry with paper towels, add them to the pan and sprinkle with salt and pepper; work in batches if necessary to avoid crowding the skillet. Cook, turning once, until they are well browned on both sides but not quite cooked through, 2 minutes per side. Transfer the scallops to a plate.
Stir in the garlic, lemon juice, and wine and scrape all the brown bits off the bottom of the skillet with a spatula. Lower the heat to medium and cook until the liquid in the skillet thickens, a minute or two, then whisk in the butter you chilled in the freezer, one bit at a time, to make a creamy sauce, adding another tablespoon or two of liquid if necessary.
Return the scallops to the skillet and add the chives. Adjust the heat so the sauce bubbles gently and toss to coat the scallops with the sauce. To serve, transfer the scallops to a platter and spoon the sauce over all. Enjoy!