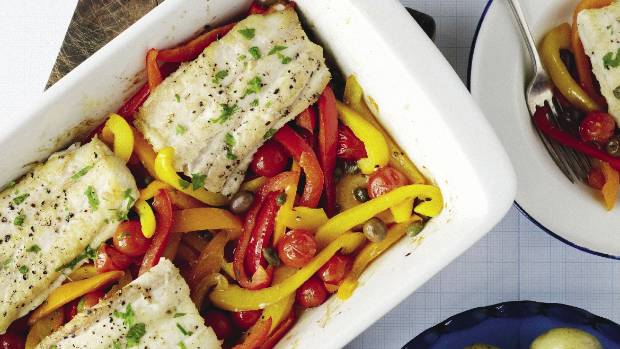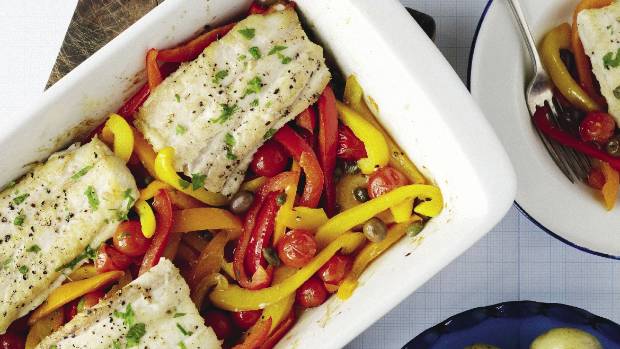 Lemonfish is our special for this week so why not try this vibrant Roasted Lemonfish with Capsicums & Cherry Tomatoes. Check out the original post here.
INGREDIENTS
250g cherry tomatoes
3 capsicums, yellow and red, cored and thinly sliced
1 tablespoon olive oil, plus extra for frying
Sea salt and freshly ground black pepper
600g skinned and boned lemon fish, cut into 4 pieces
1 tablespoon red wine vinegar
3 tablespoons black olives
2 tablespoons capers
Finely chopped flat-leafed parsley to garnish
METHOD
1. Place a baking dish in the oven and preheat to 200°C. In a medium bowl toss the cherry tomatoes and capsicums with the oil, season with salt and pepper, and place in the hot baking dish. Roast for 10 minutes.
2. Meanwhile, season the fish with salt and pepper, and brown in a frying pan with a little olive oil.
3. When the vegetables have cooked for 10 minutes, sprinkle the vinegar, olives and capers over, and place the fish on top. Roast for 5-8 minutes (depending on the thickness of the fillets) until the fish is just cooked.
4. Sprinkle with parsley and serve on warmed plates. This is delicious with a side of boiled new potatoes and a rocket salad dressed with lemon, extra virgin olive oil, and salt and pepper.