PACIFIC PICKLED FISH SALAD WITH COCONUT TURMERIC DRESSING
Serves 6 / Preparation 20 minutes plus pickling time / Cooking 5 minutes
Published on Stuff by Cusine magazine.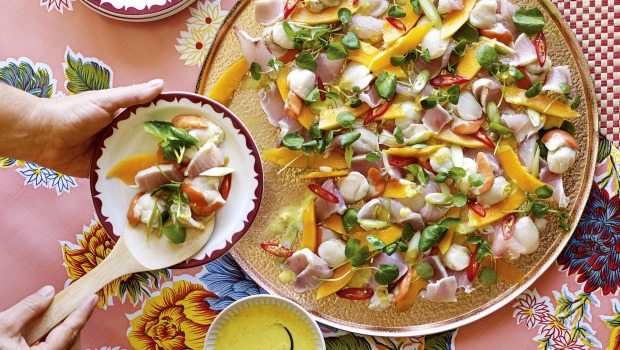 This is a celebratory spin on the traditional Polynesian fish salads like ika mata and kokoda. The dressing is delicious with any other fish dish and chicken salad too. Start at least a day in advance as the fish needs to pickle – overnight is OK, but two to three days is best. This serves six as a main but also makes a lovely entree, in which case would serve eight to 10.
150ml white or rice wine vinegar
1 tablespoon salt
3 tablespoons sugar
zest of 1 lemon
500g thick, firm white fish fillet(s), skinned, boned (I used kingfish)
3-4 shallots, thinly sliced
300g small scallops
1 tablespoon peeled, grated fresh turmeric or ½ teaspoon turmeric powder
2 teaspoons grated ginger
juice of 1 lime
1 tablespoon fish sauce
4 tablespoons coconut cream
1 large bunch of watercress
4 spring onions, thinly sliced
2 red chillies, sliced
1 pawpaw (papaya), peeled, sliced
Combine the vinegar, salt, sugar and lemon zest with 100ml water in a saucepan and bring to the boil. Simmer for 3 minutes then leave to cool.
Put the fish in a glass or ceramic container with the shallots and scallops (if it's pickling overnight only, halve the scallops and cut the fish into large pieces). Pour the vinegar mix over and cover. Refrigerate for 2-3 days, turning the fish daily.
In a small bowl, mix the turmeric, ginger, lime, fish sauce and coconut cream. Remove the fish from the pickling mix, slice and arrange on a large platter with the scallops, watercress, spring onions, chillies and pawpaw. Drizzle over the coconut turmeric dressing to serve.