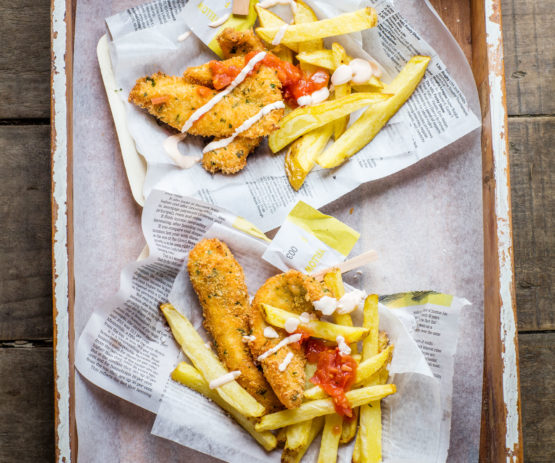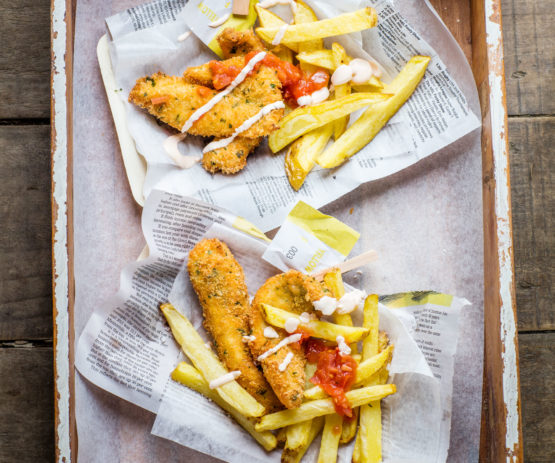 This Nadia Lim recipe for herby panko crumbed fish with twice cooked hand cut chips is a healthier option for everyone's favourite Friday night Fish & Chips. Check out the original post here.
INGREDIENTS:
gurnard, tarakihi, snapper or other firm white fish4 fillets
plain flour ¾ cup
celery or herb salt 1 teaspoon (or normal salt)
eggs 2, lightly beaten
panko breadcrumbs 1 ½ cups
fresh parsley 2-3 tablespoons, chopped
oil for frying
medium-large Agria potatoes 4, scrubbed
oil for frying
sea salt
METHOD: Herby panko crumbed fish
Cut each fillet into 2-3 even strips. Take three bowls: combine the flour and celery salt in one, put the egg in another, and combine the crumbs and parsley in the last bowl. Dip each fish strip first in the flour, then the egg and lastly coat in crumbs. Cover and chill until ready to cook.
Heat a 5cm depth of oil in a medium saucepan. Cook the fish, a few strips at a time, until golden and cooked through. Keep warm while cooking the remaining fish.
You can also bake the fish for a healthier version. Arrange in a single layer on a lined tray and spray lightly or drizzle with oil. Bake for 10-12 minutes at 180°C or until fish is starting to flake and the crumbs are lightly toasted.
METHOD: Twice cooked hand cut chips
Cut the potatoes into even-sized chips or thin wedges and pat dry with paper towels.
Heat a 5cm depth of oil in a medium saucepan over medium heat (or the recommended depth in a deep fryer). Cook the potato chips in small batches for 3-4 minutes until they are just tender but not coloured, drain on paper towels and set aside.
When ready to serve, increase the heat of the oil, return batches of chips to pan and cook for a further 3-4 minutes or until crisp and golden. Drain on paper towels, sprinkle with sea salt while still hot and serve.