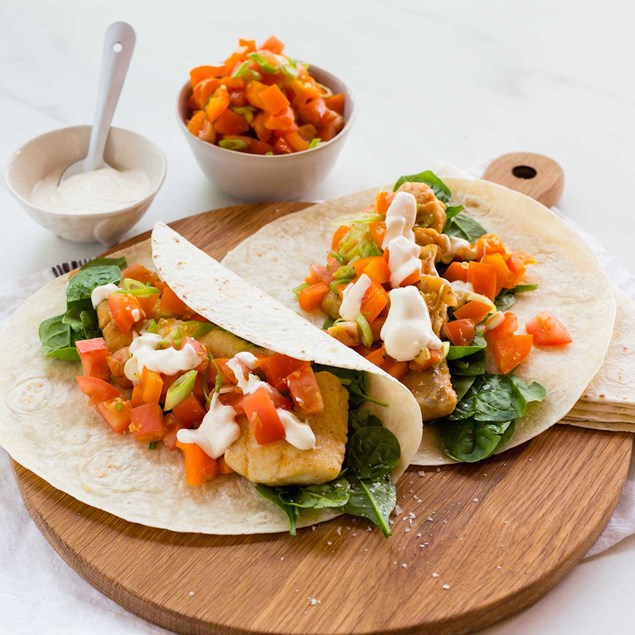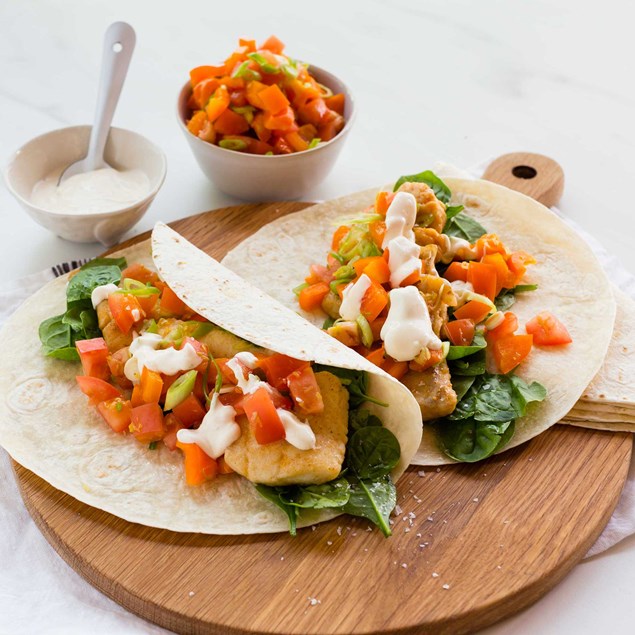 Eveyone loves Tacos so this Nadia Lim recipe is a great way to enjoy your fish. Check out the original post on Stuff.
FISH TACOS WITH VEGGIE SALSA AND LEMON MAYO
Ready in: 25 min
Prep time: 15 min
Cook time: 10 min
Veggie salsa
1 capsicum, core and seeds removed and diced 1cm
1 tomato, diced 1cm
2 spring onions, thinly sliced
Zest of 1 lemon
Juice of ½ a lemon
Fish tacos
¼ cup plain flour
2 tablespoons fish taco seasoning (see recipe below)
600g skinless, boneless, white fish fillets
10 tortilla wraps (store-bought)
Fish taco seasoning
¼ teaspoon ground chilli
1 teaspoon ground cumin
1 teaspoon onion powder
1 teaspoon smoked paprika
Lemon mayo
¼ cup mayonnaise
Juice of a lemon
To serve
120-150g baby spinach leaves
Method
Preheat oven to 180C (if using to warm tortillas).
1.    In a medium bowl, combine all vege salsa ingredients and season with salt and pepper. Set aside.
2.    In a large bowl, combine flour and fish taco seasoning and season with salt and pepper. Pat fish dry with paper towels and remove any remaining scales or bones. Cut fillets into 5-6cm pieces and place in flour mixture. Toss to coat, shaking off excess as you go.
3.    Heat a drizzle of oil in a large fry-pan (preferably non-stick) on medium-high heat. Cook fish, in batches, for 1-2 minutes each side, or until just cooked through. Remove from pan and set aside.
4.    While fish cooks, wrap stack of tortillas in foil and place in oven for 4 minutes to warm through (alternatively, wrap in cling film and heat in the microwave for 30 seconds).
5.    In a small bowl, mix all lemon mayo ingredients together. Season with pepper and set aside.
To serve, layer spinach leaves on the bottom of each tortilla, top with some veggie salsa, fish and a drizzle of lemon mayo.