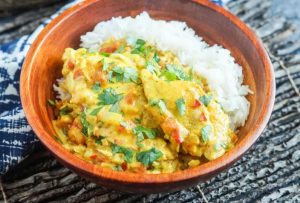 A recipe for Fish Suruwa (Fijian Fish Curry)! Pieces of firm white fish are simmered in a spiced coconut mixture for a quick and flavorful meal. Check out the original recipe here. 
Ingredients
3 tablespoons vegetable oil
1 medium onion peeled and diced
1 cinnamon stick
3 cloves garlic peeled and minced
2 long red chilies stems and seeds removed, chopped
1 1/2 teaspoons garam masala
1 teaspoon ground toasted cumin
1 teaspoon ground turmeric
2 medium tomatoes finely diced
Juice of 1 lemon
400 ml coconut milk
Salt to taste
Freshly chopped cilantro for garnish
Steamed white rice for serving
Instructions
In a large skillet, drizzle the oil over medium heat.
Once heated, add the onion and cinnamon stick. Cook until the onion begins to soften, then mix in the garlic and chilies. Cook until just fragrant and stir in the garam masala, cumin, and turmeric.
Once fragrant, add the tomatoes and cook, stirring occasionally, until the tomatoes start to break down, about 15 minutes.
Push in the fish pieces around the tomato mixture to the bottom of the pan and drizzle the lemon juice over the top. Cook for a couple of minutes and flip the fish to the other side.
Gently mix in the coconut milk and simmer just until the fish is cooked through, about 5 minutes.
Season to taste with salt and serve immediately with rice and cilantro.