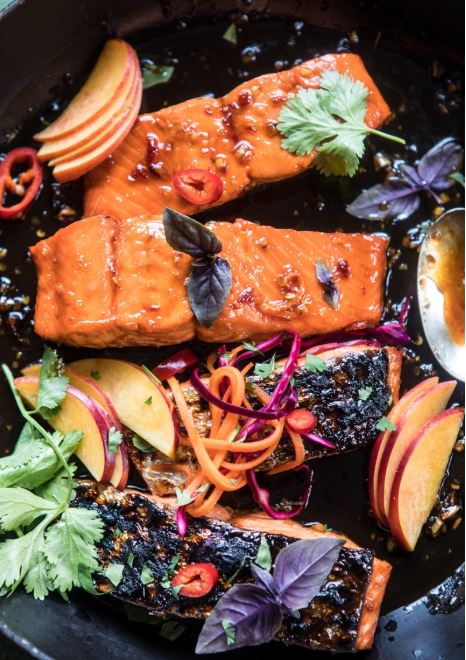 When the weather is hot and the sun is out you want to be outside not stuck in the kitchen. This recipe is perfect for summer as it's quick and easy! Check out the original recipe here. 
INGREDIENTS
1 tablespoon sesame oil
2/3 cup honey
2 tablespoons sambal oelek
2 tablespoons low sodium soy sauce
1 inch piece fresh ginger, grated
2 cloves garlic, chopped
zest and juice of lime
ASIAN SUMMER SLAW
2 tablespoons lime juice
2 tablespoons rice vinegar
1/2 head purple cabbage, shredded
2 nectarines thinly, sliced
1 cup fresh cilantro, chopped
2 carrots, shredded
red or green jalapeños, chopped
pinch of kosher salt
INSTRUCTIONS
Preheat the broiler to high.
Rub the salmon all over with sesame oil. Heat a cast iron skillet over medium high heat.
In a small bowl, combine honey, sambal oelek, soy sauce, ginger, garlic, lime zest and juice. Pour the sauce into the skillet and allow it to boil for 2-3 minutes. Remove from the heat and add salmon, skin side up. Transfer the skillet to the oven and broil for 2-3minutes, watching closely until the salmon skin is crisp.
In a medium bowl, combine all the ingredients for the slaw and toss to combine.
Serve the salmon topped with the slaw and drizzled with any extra sauce in the pan. Enjoy!