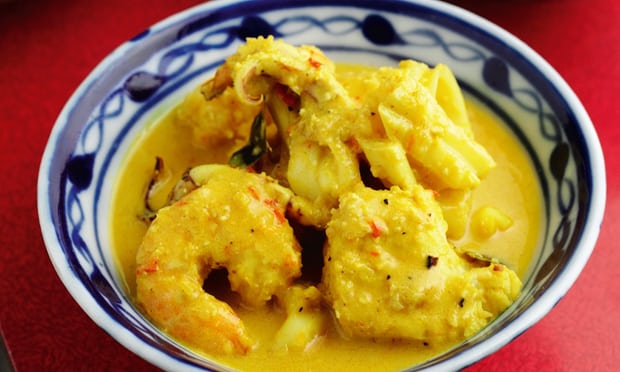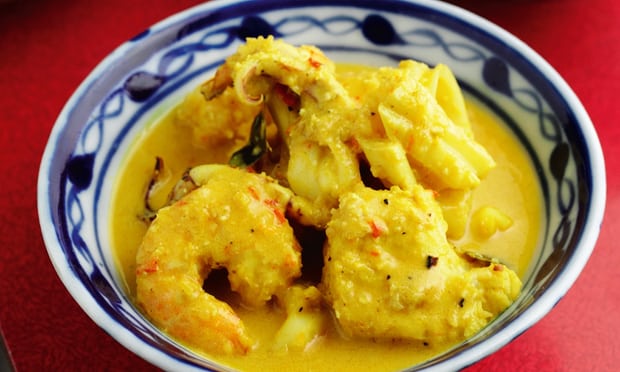 Rick Stein is the master of seafood so this Indonesian seafood curry is sure to be tasty. Check out the original post here.
This is a fantastic curry is best served with a green bean and fresh coconut salad.
Serves 4
fish fillets 400g, such as Monkfish, John Dory, Gurnard
squid 250g, medium-sized (pouches about 18cm long)
raw prawns 12 large
salt 1 tsp
freshly ground white pepper
lime juice 1 tbsp
Indonesian spice paste (basa gede) 200g (8 heaped tbsp)
vegetable oil 2 tbsp
kaffir lime leaves 4, torn into small pieces
lemongrass 2 fat stalks, halved and bruised
Asian chicken stock or bought chicken stock 120ml
coconut milk 250ml
Cut the fish into 3-4cm chunks. Prepare the squid or ask your fishmonger to do it for you. Peel the prawns. Put the fish, squid and prawns into a shallow bowl and sprinkle with the salt, some pepper and the lime juice. Mix together well. Add half the spice paste and rub it well all over the pieces of seafood.
Heat the oil in a large pan over a medium heat. Add the remaining spice paste and fry gently for 2-3 minutes until it starts to smell fragrant. Add the kaffir lime leaves, lemongrass and stock and simmer for 1 minute.
Add the pieces of fish (not the squid or the prawns) to the pan and leave to cook for 1 minute, then turn them over and cook for a further minute. Add the coconut milk to the pan, together with the squid and prawns, and simmer for 2 minutes. Season to taste with a little more salt and lime juice and serve.