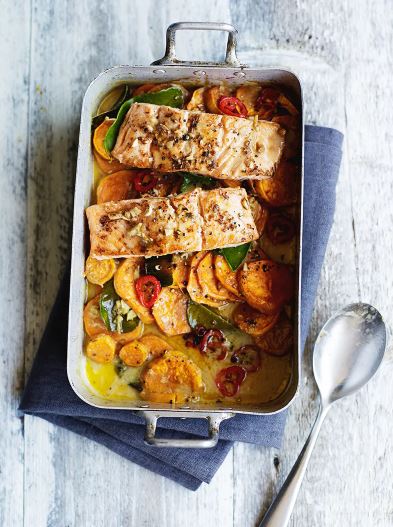 Bursting with fresh Asian flavours, this easy salmon tray bake can be on the table in well under an hour. Check out the original recipe here.
Ingredients
1 large sweet potato
2 sticks of lemongrass
5 cm piece of ginger
2 cloves of garlic
1 teaspoon sesame oil
150 ml organic vegetable stock
150 ml light coconut milk
6-8 lime leaves or 1 lime
1 long red chilli
4 x 150g salmon fillets
low-salt soy sauce , optional
Method
Preheat the oven to 190°C
Scrub the sweet potato, then slice into thin rounds. Arrange the slices, overlapping, in a large roasting tin.
Bruise the lemongrass, then finely chop the tender parts. Peel and finely chop the ginger and garlic. Finely slice the chilli.
Mix the sesame oil, stock, coconut milk and two-thirds each of the lemongrass, ginger and garlic. Pour over the potatoes, tuck in the lime leaves (or squeeze the juice on top and scatter over the zest) and sprinkle over the chilli.
Roast for 20 to 25 minutes, or until the potatoes are done. About 8 to 10 minutes before the cooking time is up, sit the fish on the potatoes and top with the rest of the lemongrass, ginger and garlic.
When the fish is just cooked, drizzle with soy sauce, if you like. Delicious served with green beans and mangetout.